Performance Hacks, Physical Therapy & Winning Gold Medal Strategies
On Your Next Trip, Leave Your Back Pain Behind...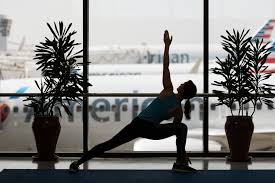 Do you travel often?
Are you hauling around your luggage between airplanes, rental cars, and hotels? Does your back ache and your muscles strain because of it?

If so then these Physical Therapist's SIMPLE Low Back Pain Hacks will guarantee you'll enjoy your next trip PAIN-FREE
I worked with a flight attendant from a major US airline who - for years! - felt the pain of hauling her own luggage, but also had to lift passengers' heavy and sometimes awkward bags up into the overhead compartment. (Don't get me started on the drink cart!) She came to me at her wit's end, fearing the worst (MRI then surgery), literally aching for a solution.
She needed to lose her low back pain fast and for good. And she did!
Here's what we did:
FIRST:
Before you start any treatment, let's make sure you're armed with the right information.
Did you know that studies have shown that 67% of people without back pain show evidence of arthritis and herniated discs... but no pain! I assured her that an MRI is NOT necessary for her type of pain. She was surprised as that's the first thing her doctor recommended.
SECOND:
Having a sound strategy on how to address a specific problem will speed up your recovery.
To maintain your lifestyle and feel great, it's critical to create stamina before strength, to get your back strong and conditioned to handle everyday tasks. After testing her back strength, we realized she was already very strong but had very little endurance to work those long flights! We started off using these three easy exercises (aka "The Big 3") created by spine biomechanics expert Dr. Stuart McGill, Ph.D. to create stable, lasting muscular support around her spine.
THIRD:
Before working on any advanced exercise routines, make sure your basics are covered and well in place.
Movement often provides the best long-term relief for low back pain. She already walks a lot for work between airport terminals, but walking with a roller bag and stress was causing her more pain. When she could steal a moment between flights, at home, or the hotel, she put on a pair of walking shoes and started easy for just 10 minutes. The best thing you can do for low back pain is to simply take a walk! So lace up your shoes, grab some good music, and start with an amount you're comfortable with - I usually recommend 10 minutes, 3-4 times per week.
Some days her schedule got too busy and a walk wasn't in the cards. Thankfully, we found another way to get her moving...
Foam rolling is an extremely popular and effective way to mobilize your stiff spine, loosen up tight hips, roll out adhesions and improve circulation. Foam rollers like this one are compact, easily fit into her luggage, and travel well for those on the go.
As she improved, I'd still hear her say periodically "Hey, bending forward to pick something up is still really painful!" She's not alone, and bending forward is one of the most common complaints in people with low back pain. Physical Therapists devised a treatment strategy that you can do all on your own, saving you the expense of multiple costly visit co-pays and lost time from work.

Here's a tool that's patented, packable and effective, and is FDA approved taking advantage of your natural spinal motions that DO FEEL GOOD, to get you moving better, faster and easier!
CONCLUSION
People who take ownership over their back pain by actively seeking treatment and education are less likely to be derailed by back pain in the future. Avoid surgery, avoid pain medications, avoid missed work days and get better faster by following the same advice that this flight attendant followed.
In some cases it's important to see your doctor: If you're experiencing numbness and tingling symptoms in your groin, legs or toes; if you have sharp shooting pains down one or both legs; or if you have a previous history of cancer, don't wait to make an appointment today. If none of those apply to you, then get to work and be pain-free in no time!
0 comments